SGP is Growing their Purchasing Partner Network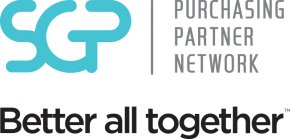 MARKHAM, ON—(February 18, 2016) – SGP Purchasing Partner Network, formally Silver Group Purchasing, is pleased to announce the continued growth of their network with the launch of their new website www.sgpnetwork.com
SGP, a division of Extendicare Inc., has recently rebranded to emphasize the important relationships amongst their sister companies, members and suppliers. These relationships form their purchasing partner network. With a dedicated team of expert consultants, over 600 members representing 50,000 seniors and 450 suppliers making over 40,000 products - it is quite a network.
"People used to think of us as just a group purchasing organization but we are so much more than that," said Deborah Bakti, Vice-President of SGP. "We are a resource for our clients and we work with our network to achieve a shared purpose – delivering a quality product and experience for our residents. We truly are better all together. In our network, everyone wins."
SGP is also pleased to announce that they have recently added Effective Pricing Solutions (EPS) as of Jan 1st and The Good Samaritan Society as of April 1st to its growing network.
Effective Pricing Solutions (EPS) is an alliance of independent living, assisted living and long-term care retirement communities and group homes for seniors and represents 85 sites across Canada and more than 10,200 beds. The Good Samaritan Society is a nonprofit charity with over 65 years of experience in providing complex/continuing care, assisted/supportive living and other specialized health and community care services in Alberta and British Columbia.
"We are very excited to become part of the network partnership and will work together on making it a success", said Alnawaz Ladha, CEO of EPS.
ABOUT SGP Purchasing Partner Network
SGP Purchasing Partner Network is a division of Extendicare Inc. SGP offers group purchasing, consulting and education to over 600 clients representing 50,000 seniors across Canada. As an owner and operator of seniors' homes SGP understands the needs of clients and provides a channel for members and suppliers to communicate to ensure positive care outcomes for residents.
ABOUT EXTENDICARE
Extendicare is a leading provider of care and services for seniors in Canada. Our team of almost 25,000 staff care for over 100,000 Canadians in their own homes, in long-term care homes and in retirement communities across the country. Our mission is helping people live better.
For further information contact:
Rebecca Scott Rawn
National Director, Communications and Strategic Partnerships
Tel: 905-470-5556